Revit – Vertikalne Kabelske Police
---
Revit MEP je od verzije 2018 postao integrirani dio Revita, čime je još značajnije potaknuta suradnja među strukama. Sa svakom novom verzijom Revita, alati vezani za MEP discipline postaju sve bolji, te se dodaju nove značajke. Primjerice, alati za izradu cijevi, ventilacijskih kanala, vodiča i žica su postali gotovo automatski, te se s lakoćom može modelirati razvod određenog sistema, neovisno je li riječ o termotehnici, vodovodu i kanalizaciji ili elektro instalacijama.
Jedini alat vezan za MEP discipline koji predstavlja male poteškoće pri modeliranju je alat za kabelsku policu ("Cable Tray"). Razlog tome je poprilično jasan. Kabelske police su složeniji element time što osim promjenjive širine i visine imaju i gornje lice koje treba orijentirati na pravu stranu (Slika 1). Postoje dva načina kako označiti rampu u tlocrtu: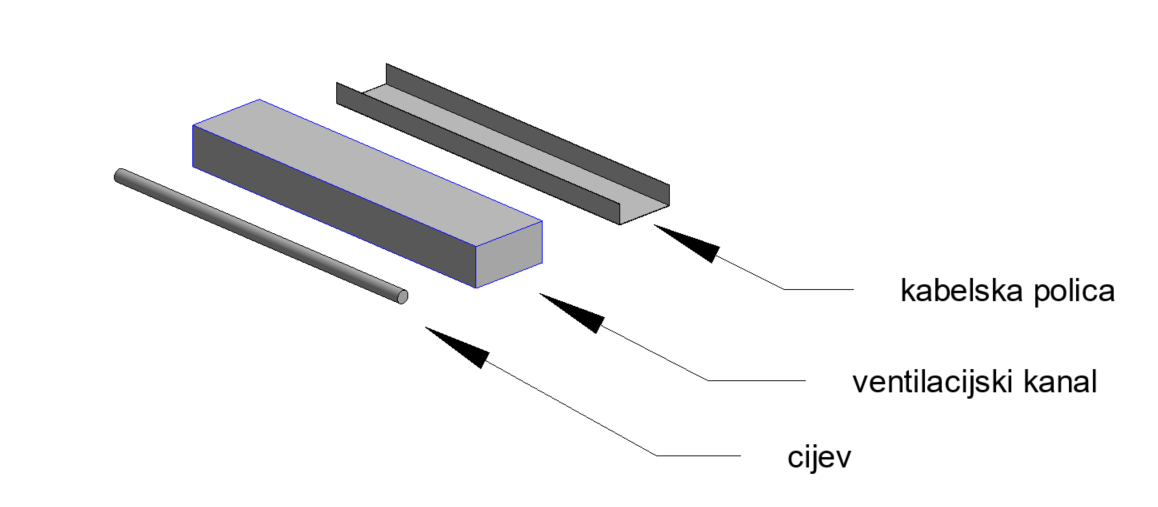 Slika 1. Prikaz linijskih MEP alata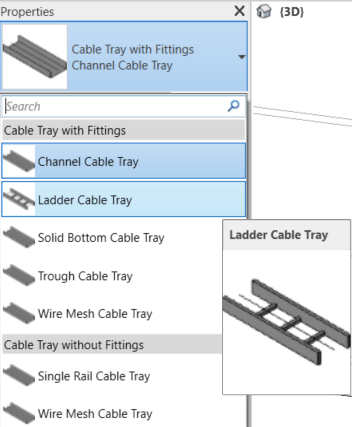 Kabelske police će se ponašati slično kao i jednostavniji ventilacijski kanali ukoliko ih modeliramo isključivo u horizontalnoj orijentaciji, odnosno ukoliko su paralelne s tlom. No ukoliko ih želimo voditi paralelno sa zidovima, uvidjet ćemo da postoje određena ograničenja. Zato, kako bi što lakše izveli vertikalne kabelske police, opisati ćemo nekoliko savjeta, a testirano je u verziji Revita 2021.
Pri odabiru familije i tipa kabelske police, preporuka za odabir je "Ladder Cable Tray", kada je potrebno modelirati složeniju policu sa kombinacijom vertikalnih i horizontalnih trasa (Slika 2). Ovaj tip police se najsličnije ponaša ventilacijskim kanalima, te će stvarati najmanje grešaka.
Za početak izrade vertikalne police najbolja praksa je u tlocrtu povući horizontalnu policu netom prije zida, promjeniti "Middle elevation" na veću ili manju vrijednost, ovisno o željenom smjeru vertikalne police, te kliknuti "Apply" (Slika 3).
Slika 3. Početak crtanja vertikalne kabelske police
Dobiti ćemo vertikalnu policu, te daljnje modeliranje vršimo u presjeku koji je paralelan sa zidom. Unutar presjeka, policu ne možemo modelirati na način kao što se može u tlocrtu, jer će uvijek biti krivo zarotirana za 90°. Kako bi to izbjegli, potrebno je postojeću vertikalnu policu kopirati, zarotirati ukoliko je potrebno, te ih spajati sa naredbom "Trim/Extend to Corner" unutar "Modify" kartice (Slika 4). Ne preporuča se policu u presjeku produžavati ili skraćivati sa njenim krajnjim točkama koje se pojavljuju selekcijom police, jer se opet može dogoditi kriva rotacija.
Slika 4. Modeliranje vertikalne kabelske police u presjeku
Za svaku promjenu smjera vertikalne police je najbolje prvo iskopirati postojeću policu, te ju zarotirati u potrebnom smjer i spojiti sa "Trim/Extend to Corner". Jednako tako spoj postojeće vertikalne i horizontalne police je opet najbolje izvesti sa istom naredbom. Ukoliko moramo nastaviti voditi vertikalnu policu po okomitom zidu, opisan proces možemo napraviti u tlocrtu, te ponovno nastaviti u presjeku paralelnom sa zidom (Slika 5).
Slika 5. Prikaz mogućih promjena smjera vertikalne police
Ukoliko nije mogućnost koristiti ovaj tip kabelske police, potrebno je pratiti sličan proces u kojem će pojedine linijske elemente trebati rotirati za 180° nakon spajanja (Slika 6). Dok za dodavanje T koljena u vertikalnim kabelskim policama naredba "Trim/Extend to Corner" ne funkcionira, već je potrebno u "System" kartici odabrati "Cable Tray Fitting", selektirati željeno koljeno i spjiti ga na jednu granu. Zatim kopirati grane sa svih strana koljena, rotirati ih u pravilnom smjeru i klikom na koljeno spajati sa svakom pojedinom granom (Slika 7).
Iako su zbog svoje kompleksnosti vertikalne kabelske police složenije od ostalih alata u Revitu, moguće je izraditi točno željene trase i prikazati ih u 3D modelu. Nakon nekoliko početnih pokušaja i pogreški, lako se shvati princip ponašanja, te se nakon toga mogu iznimno brzo modelirati.