BIM – Najpoznatije web stranice za preuzimanje BIM objekata / Revit familija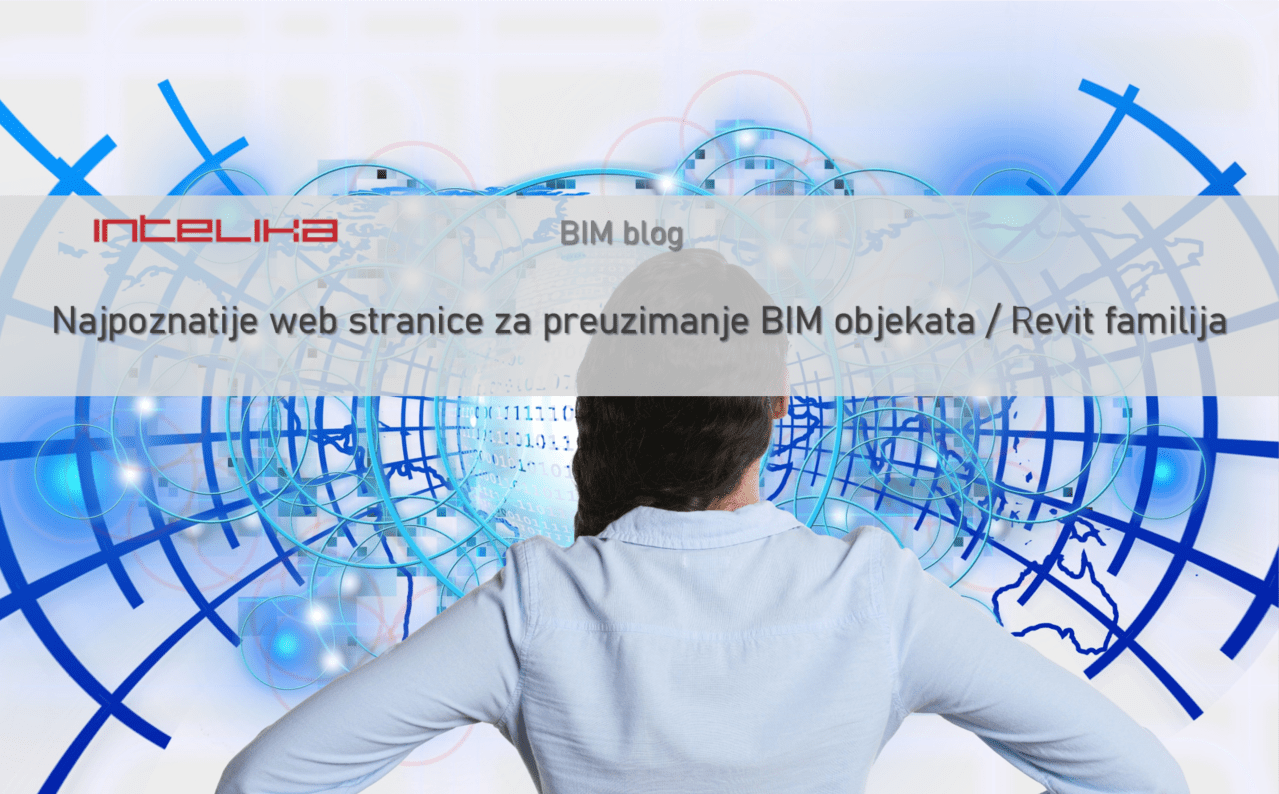 ---
U BIM svijetu najveći fokus je na "informacijama" pa su prema tome glavne isporuke BIM pristupa, BIM modeli, zapravo 3D baze podataka – 3D modeli obogaćeni informacijama. Sastavni dio modela su BIM objekti koji također, osim vizuala, u sebi nose niz različitih informacija koje se mogu iskoristiti i nadograđivati/mijenjati kroz životne faze projekta.
Sami ISO standardi (ISO 16757) propisuju minimalan sadržaj BIM elemenata:
3D geometrijom
2D detaljima (simboli)
Zahtjevima za manipulativni prostor
Materijalima i ostalim parametrima (informacije i tehnički podaci)
Logičkim spojevima
Danas su proizvođači prepoznali važnost i prednost postojanja kataloga BIM objekata njihove opreme te na svojim web stranicama omogućuju preuzimanje istih te na taj način olakšavaju inženjerima korištenje njihove opreme u digitalnom svijetu. Sama oprema proizvođača u obliku "BIM" elementa, u sebi već sadrži sve potrebne informacije koje se mogu koristiti u projektiranju, logstici, troškovnicima, izvođenju, upravljanju i održavanju te raznim analizama.
Neki od proizvođača čije BIM elemenate možemo preporučiti su: Hoval, Daikin, Ikea, Steelcase, Philips, Luce&Light, Kona itd.
1. BIMsmith Market
BIMsmith is one of the world's fastest-growing BIM platforms for AEC professionals. BIMsmith Market has a rapidly expanding library of tens of thousands of free Revit families that have been modeled by the BIMsmith team of in-house architects. BIMsmith Forge® is also available as a free Revit configurator for building multi-layer Revit assemblies like walls, floors, ceilings, and roofs in the cloud.
2. RevitCity
RevitCity is not just a place to download free Revit families, but it is also a central place where you can get your questions answered, share your latest ideas or creations, and easily find the content you are looking for.
3. RBI Water Heaters
Mestek has created a library of BIM objects for free download and use by the design community. Objects are available in the Autodesk Revit MEP.RFA format and many objects are also stored as.ZIP files. Please note that some objects require the saving of both an.RFA file and a.TXT file in order to function correctly.
4. BIM Object
BIMObject is one of the world's largest and fastest growing digital content management system for BIM objects. According to the website, you can download 33,837 product families, 244,292 parametric BIM object, and 16,493,712 products.
5. Smart BIM Library
Another pretty good site with a large range, and easy to find Revit families. Both manufacturer specific and generic content, this is a great site to check out.
6. CAD Forum
CADforum has a CAD/BIM block library with more than 13.000 blocks. Also, it has some tips for AutoCAD 2017, Revit 2017 and Inventor 2017.
7. Modlar
Modlar has a large collection of manufacturer specific products to use with your projects. It is all completely free, you just need to be signed in to download the files.
8. SpecifiedBy (UK)
This is a great resource for manufacturer specific content from a huge range of product categories. They claim to have "the largest library of BIM content in the UK", and the site is easy to navigate, search, and filter to find exactly what you're looking for.
9. ARCAT
For CAD and BIM resources, ARCAT is a one-stop-shop. Their free, no registration system has everything from concrete to pollution control system.
10. BIMetica (Spanish)
Again, another BIM library with a large amount of Revit families. Some categories are empty however which can be annoying!
11. The National BIM Library
The National Bim Library offers a collection of free to download generic BIM components that are compatible with the major BIM products. NBS are better known for their specifications but have taken a b interest in BIM recently. The library is still a little sparse but the basics are in place for a very useful resource.
12. RevitComponents
Some useful free components especially b on furniture and interiors.
13. TurboSquid
This site offers components which you pay for but there is a small amount of free items. TurboSquihasve a Revit certification system that ensures the components meet minimum standards. Compare the prices to the time you might spend modeling the items.
14. BIM Catalogs
A good place to find manufacturer specific content, a bit hard to navigate and find products without knowing the manufacturer first. Worth a look however.
15. Polantis
This site offers a huge range of 3d content, however a lot of the Revit families are not "true" Revit familes, in the sense they have been created in other 3d programs and just imported and saved as a Revit Family file. Good site if your just after content for visualization purposes.
16. BIMbox
Another great site from the UK, BIMbox have a decent amount of Revit content available for Free download. Most of the content is geared towards interiors (Sofas, Tables, Shelving etc.) and the site is well presented. Most Revit content is IFC compliant which is great.
17. Familit
RFA files are family files that can either be loaded using Revit familyManager into a project or saved externally. At the moment familit.com offers 18.000 free families in English, German and French language.
18. BIM Catalogs
A good place to find manufacturer specific content, a bit hard to navigate and find products without knowing the manufacturer first. Worth a look however.
19. Bimstore
The Bimestore offers a library of BIM content by manufacturers in Revit, Microstation and ArchiCAD format. The content is free to download. You will need to register on the site first. They have an excellent guide to content creation.
20. CAD Notes
Very useful website maintained by Edwin Prakoso on everything related to AutoCAD, Microstation and Revit.
21. RubySketch
This site has a lot of SketchUp content – but also a whole heap of Revit families as well. A diverse range of products, with lots of Mechanical & Plumbing fixtures.