MagiCAD 2024 za Revit i AutoCAD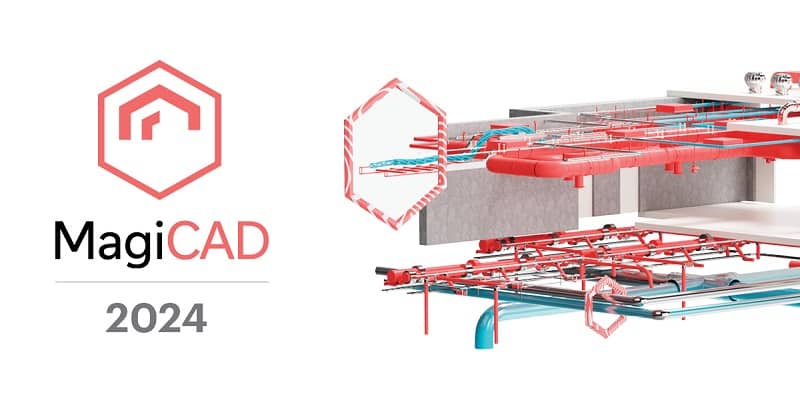 MagiCAD Group has released MagiCAD 2024 for Revit and AutoCAD. The new version offers a wide selection of new and improved functions for efficient MEP design. MagiCAD 2024 supports the latest Autodesk platforms Revit 2024 and AutoCAD 2024.
The new version of MagiCAD offers designers powerful tools to design and calculate variable air volume (VAV) systems in both Revit and AutoCAD environments. With the new functionality users are able to simulate different usage scenarios in order to find the optimal balance of comfort and energy-efficiency.
Other highlights in MagiCAD 2024 for Revit, include a Project Wizard tool that combines everything needed to start a new project in one easy-to-use window, and a View Manager tool, for creating and managing views. Modelling work is easier with the possibility to copy branches between levels and electrical designers will also benefit from multiple new additions, such as ELV data for products.
MagiCAD 2024 for AutoCAD provides the possibility to assign classification standards for systems, enabling automatic classification codes to be added for objects during the design. Other improvements that help the daily work of MEP designers include labeling objects to enable custom filtering in reporting and file exports and the possibility to update saved products directly from MagiCAD Cloud.
MagiCAD 2024 for Revit – New features:
Support for Autodesk Revit 2024
Calculation of variable air volume (VAV) systems
Project Wizard tool for easy project setup
View Manager tool for easy view management
Improved view features
Copy, import, and export national classification code structures
Create and apply system classifications
Add selection area information for objects
Use real connection points for water devices
Flow calculation for multiple connected drainage system types
Multiple improvements to Sprinkler Designer
Improvements to the duct and pipe series updater tools
Copy branches between levels
Add extra-low voltage (ELV) system data for products
Define supply cable dimensions for circuits
Improved Export/Import of electrical networks
Improved symbol management
Click here for more details on these and other new functions
MagiCAD 2024 for AutoCAD – New features:
Support for Autodesk AutoCAD 2024
Use classification standards for systems
Update products in MagiCAD through MagiCAD Cloud
Label objects for custom filtering
New options in the Drawing Cleaning Utility tool
Updated Part Properties windows in Ventilation and Piping modules
Calculation of variable air volume (VAV) systems
Connect any device type to a lighting track
Define default connect mode when drawing electrical systems
Click here for more details on these and other new functions
About MagiCAD
MagiCAD is the number one BIM solution for Mechanical, Electrical and Plumbing (MEP) design used by thousands of companies in over 160 countries worldwide. Fully integrated within Autodesk's Revit and AutoCAD platforms, MagiCAD offers a set of powerful modelling functions for each MEP discipline and enables integrated system calculations.
About MagiCAD Group
MagiCAD Group is a global software provider with the mission to help engineering, manufacturing and construction companies create better buildings for people and the planet. Our software and solutions are used by thousands of companies in over 160 countries, including WSP, Ramboll, AECOM, Arup, SKANSKA, Grohe, Lindab, Schneider Electric, and Aquatherm.
With over 40 years of experience in MEP, their team of passionate software professionals continues to provide their customers with intelligent solutions that make engineering design and construction management work easier, faster and more profitable.
MagiCAD Group is a part of Glodon Company Limited.
For more information, visit www.magicad.com.